55 Years of Practice
Another Jose Mier find! And another doctor! This current one I found while searching for the name ose Mier on Google and a listing for this particular person appeared on the healthgrades.com website. However, I followed the link and there was no information on healthgrades.com even after I searched the website specifically for that doctor's name and his location.
Fortunately, the Google listing gave me the doctor's location which was Danville, Virginia. It was only a couple more clicks to easily search for Dr. Jose Mier in Danville and I found him on a number of other websites including webMD.com as well as vitals.com. From these I was able to glean some biographical information such as the fact that he studied at Santo Tomas University and that he's been in practice for 55 years.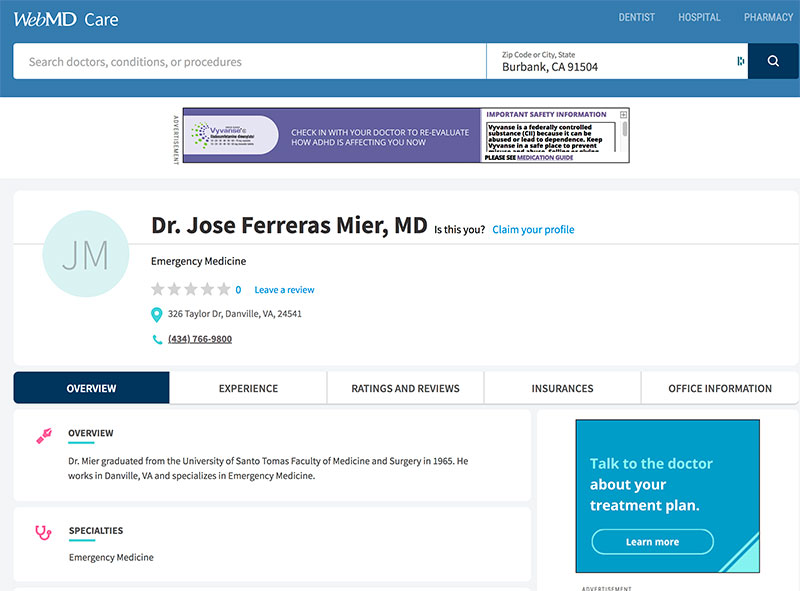 I took a little bit of time to do some research into the city of Danville found that it's located to the southwest of Richmond and Petersburg, probably an hour's drive or so. Looking at the map of Virginia and seeing these city names brings to mind all the Civil War battles that were fought in this area. I'm sure the Danville was witness to some of these battles since it's pretty close to Appomattox where Robert E. Lee signed the surrender of his army to Ulysses S. Grant, virtually ending the Civil War. In any case it looks like a very interesting place to live and I'm sure this Jose Mier has enjoyed living and working here.
With such a long history of practice I'm not sure if he's still practicing or retired. The other interesting thing about this listing is that he is a junior. That means he is also the son of a Jose Mier. So technically I could kill two birds with one stone and add both the sun and the father to my list, which I think I will do.
This is yet another physician that I get to add to my list. My previous Jose Mier post was also about physician in the country of Colombia and this one is a far distance removed from that area. I'm not sure how many miles separate Columbia from Virginia but I know it is several thousand. It's about 3,000 miles from my office here in Sun Valley, CA. Danville it Is located relatively close to Washington DC, which of course is the abbreviation for District of Columbia so there's kind of a tie in with Columbia and Colombia. I know it's stupid but I look for things to amuse myself.
Dr. Jose Ferrara Mier welcome to the list.
Summary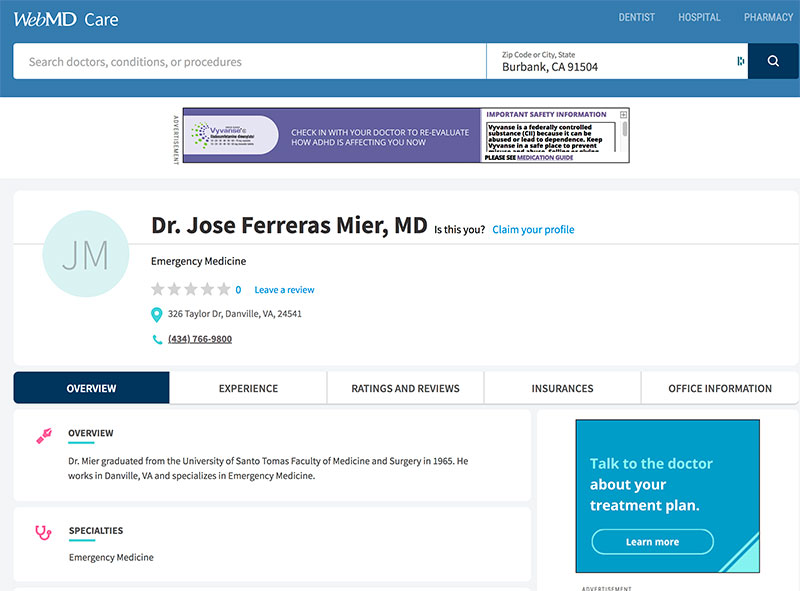 Article Name
Dr. Jose F. Mier, Jr., Danville VA
Description
Jose Mier Around the World has found another Jose Mier. This is a doctor who lives and practices emergency medicine in Danville, VA.
Author
Publisher Name
Publisher Logo