Court case in Arizona Includes a Jose Mier
Jose Mier, another one, not me, is apparently involved in some sort of lawsuit in Maricopa County, Arizona. As I was looking through the search results during my most recent Jose Mier search this listing on unicourt.com appeared the First time. When I went on the link and read further I understood why. This lawsuit was only recently filed in March of this year— 2021. That's why I had not seen it before.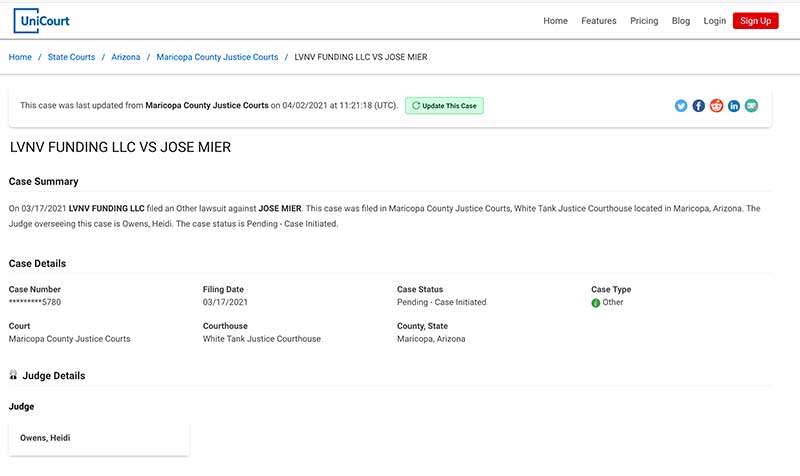 This particular result tells me two things, first that there is a Jose Mier somewhere in Maricopa County, Arizona and that he may be in debt and unable to pay some sort of loan. Hi soon this because the plaintiff in the case is one LVNV funding. Anything with the term funding in its title has to be involved in money lending in one way or another.
The site unicourt.com which publishes this lawsuit/court case information contains only the faintest information but at the bottom of the page you can see the events that took place in the court up to this point. In our Jose's case there was a request to show proof of debt. So it's from this that I take it that this Jose Mier has defaulted on loan payment or something of that nature and the loan company is taking him to court.
So, that's about it for now. I know that this particular Jose is someone living and living in Arizona but other than that I don't know much. I do not know this particular persons age or any other biographical information. I also have never come across this particular website but it may be a pleasant way to spend an afternoon to Look at call the various court cases listed on this particular site.
For now I am content that I have found yet one more Jose Mier and I am able to add him to my list.
Summary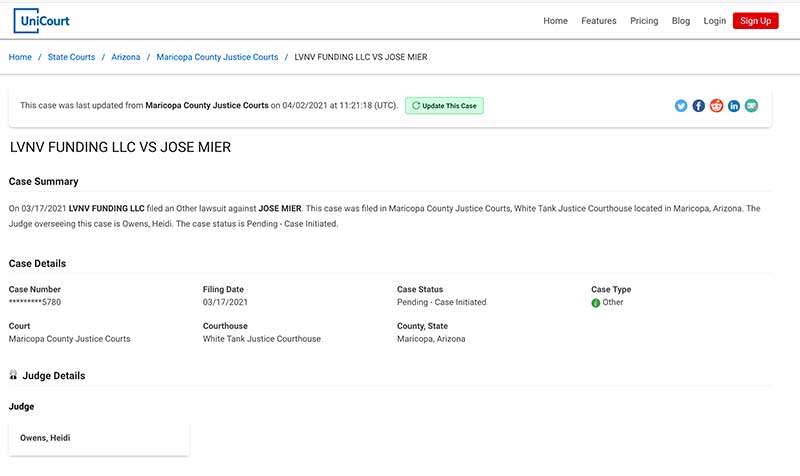 Article Name
LVNV FUNDING LLC VS JOSE MIER
Description
A Jose Mier in Maracopa County, Arizona is involved in a lawsuit in that state. It apparently involves money (and the non-payment of such). Still he's another Jose on my list.
Author
Publisher Name
Publisher Logo