Hardworking Immigrant in Montrose Colorado
Jose Mier with another namesake search. Unfortunately this time it's about someone who is recently deceased. I should preface this report by saying I originally started searching for the term Jose Mier and, as I usually do these days, I jumped right to the 10th page of search results. Then it dawned on me that I was working against myself because the search results did not contain two words Jose and Mier together but instead returned results with each of these words somewhere in a text on the page. I realized this when I saw that one of the results was an article about Taylor Swift.
If you didn't already know how to force Google to search for a specific term, you merely need to put that term in quotation marks. Upon doing this I found my latest Jose Mier. It was a little bit sad because this Mier, who went by the name Joe, passed away in 2017. The obituary appears on the website for the Montrose Press. Now At first I thought it was perhaps Montrose, California, which is very close to my home base of Sun Valley. Perhaps a 15 minute drive. When I dug a little deeper I saw that the Montrose in question was in Colorado.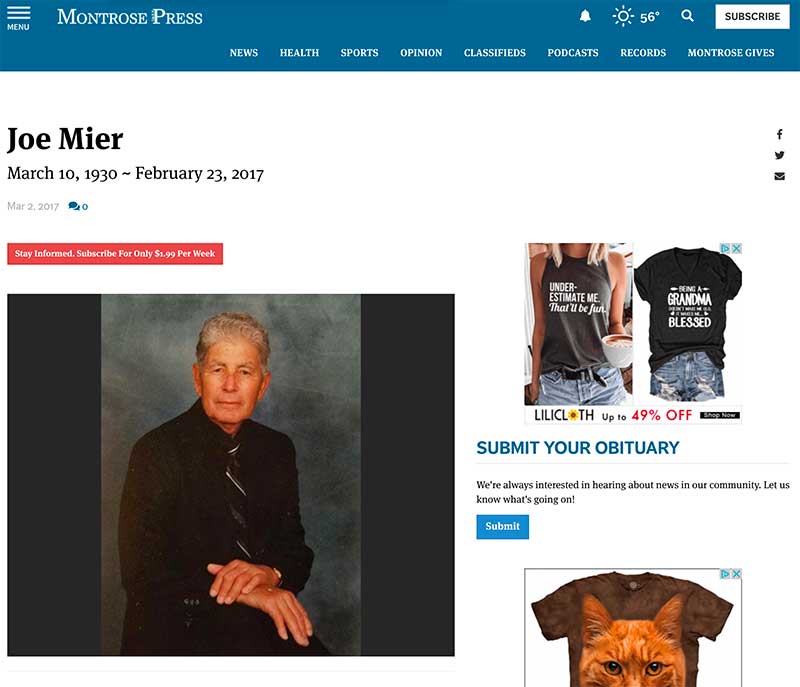 Jose Mier Originally From Durango
This particular Jose Mier was born in Durango, Mexico in 1930 and moved to the United States at 19. He became a United States citizen in 1961. He was married for almost 64 years had several children, grandchildren in great grand children. As I said it was somewhat sad to read about this man's passing because he seems like the great family man.
It's interesting this man was born in Durango, Mexico and ended up moving to Colorado because there is a Durango, Colorado. In fact at one point I took a trip to Colorado and rode many of the antique railroad lines in that state. One of the most famous lines is the Durango Silverton Railroad. In any case I mention that as an aside and it's just a coincidence.
In sum, however, I was impressed by this man's life and I'm proud to add him as another Jose Mier on my list of famous Joses. Joe Meyer, rest in peace and welcome to my list.
Summary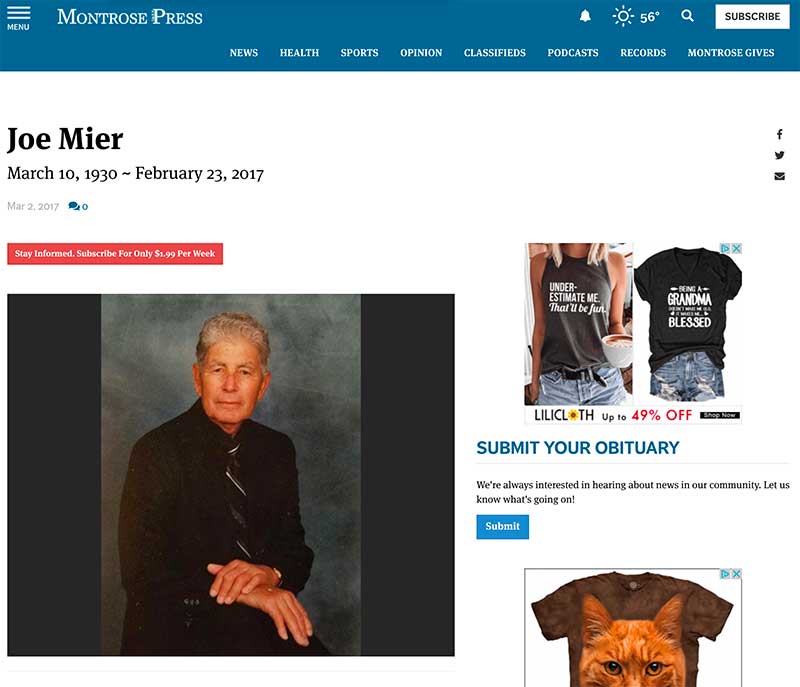 Article Name
Jose Mier (Joe) 1930-2017
Description
Jose Mier Around the World finds another Jose Mier. This time it is "Joe" Mier who passed away in 2017 in Montrose, Colorado. We welcome this extraordinary man to our list!
Author
Publisher Name
Publisher Logo