Trying to Find Jose Gonzalez de Colosia Mier's Child
Ah, Google Books. You tempt me with information only to withhold it from me at the moment I'm on to something interesting. I may seem like a broken record but yet another search on Google books has led me tantalizingly close to information I want and need but ultimately it ends up being incomplete.
I continue to use Google Books as reference source because of the sheer number of books they have listed. I love how easy (sometimes) it is, doing research deep in the bowels of my Sun Valley, CA home. One interesting find was a book entitled (in Spanish) "Knights of the Order of St. James." As I found out this is a multi-volume work and the listing for this particular Jose Mier is found in one of the many volumes. There are other volumes and I believe I've referenced one of my other finds in an earlier post. The name Jose Mier comes up again in this volume and the full name is José Gonzalez de Colosia Mier.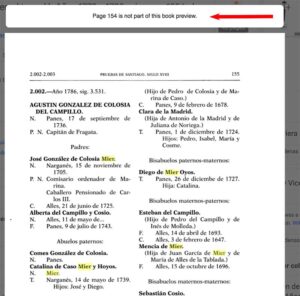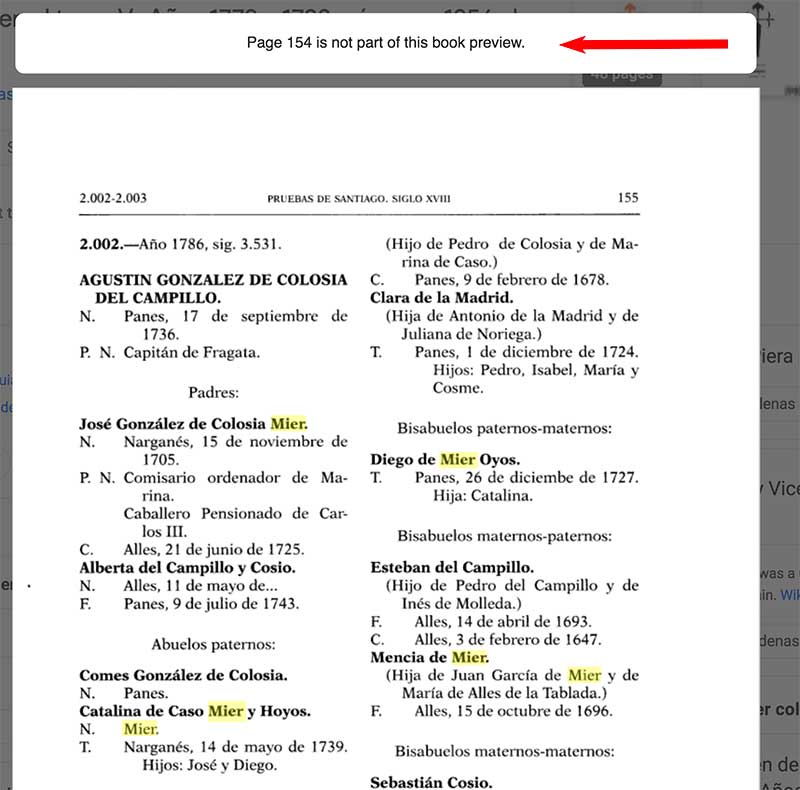 On clicking the title I was taken to that particular book's page and shown the reference I was looking for which gave me some information about this particular Jose. This person was born in Narganes, Spain in the year 1705 (November 15 to be exact). He's listed as one of the parents of one of the knights the order of St. James. However that information is contained on the page previous to this one and Google Books in its wisdom will not show me that page. It seems like an odd quirk of Google Books but it's not the first time I've run into this problem.
What this means for me is, although I know this particular Jose is a father, I don't know what his son's name was. If the son was also named Jose then I could add another namesake to my list. As is I do have information on the father and that will suffice for now.
On a side note I decided to research the area in which this man was born (Narganes) and found that is located in the north of Spain, in the province of Astoria. It's located somewhat close to the town of Santander, the birthplace of the Mier surname, but still some distance away. Even so this area of Spain is likely to have more people with the last name Mier than other parts of the country. And it's entirely possible the people from the town of Mier spread out in a kind of diaspora, making their way throughout Spain little by little. A higher concentration of me airs should be found in this northern Spanish region, however, and that's what I think I found in this reference.
Like most of the Jose Miers I find, the information is scanty. Perhaps I get a date of birth, death or marriage and like this one the Place of birth which at least give me some geographical information to go along with the listing. I take what information I can since really, what I want our names in a general idea of when these people were born, died, or if they are still living. I'm always happy to add another José to my list and this one Will do just fine
Summary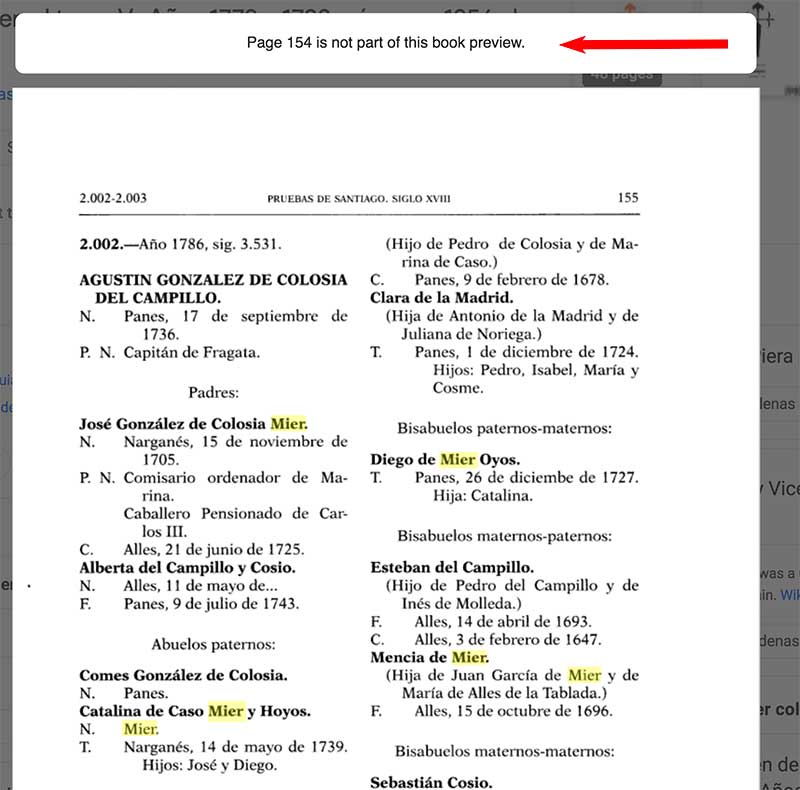 Article Name
Everything Except What I Wanted
Description
Jose Mier documents yet another namesake found on Google Books. The information is basic but this particular person was born in 1705--near Santander.
Author
Publisher Name
Publisher Logo