Jose Mier is not the most popular name, but I'm always amazed at what I find when I search for my name. The road to discovery is often a twisted one and that's the case with my latest Jose Mier search on the Internet.
Jose Mier Dearth in Canada
I have usually just put in the term "Jose Mier" and sifted through the results of what Google returned for me. This time I wanted to expand my search—still staying in North America—by looking for Jose Mier in Canada. I wanted to see what I could find. It's my opinion that there aren't a lot of Miers (the Hispanic variety) in Canada and as the name moved north I think it probably stopped in the Southwestern part of the United States.
Of course in this age of easy travel there just might be a few Jose Miers in Canada hence my search.
Jose Mier Canada Leads to Kentucky
Initially I found no Canadian results, however one of the listings was a reference to the name Jose Mier in a volume published by the Masonic Lodge in Kentucky in Google Books. There were three iterations of this, one from 1919, one from 1867 and an earlier one. However, despite being one of the search results there was no Jose Mier information in the books. I then did a search through "all books" and one of these results was a book entitled "Families in War and Peace: Chile from Colony to Nation."
Jose Mier in 1820s Chile
In this book I spotted the reference to a Jose Mier reported to be a father to another female Mier. It was yet another reference that I found interesting. There was a Manuel de Mier was also listed. The de in front of the name leads me to again that the Mier name comes from the small village of Mier in the province of Santander, Spain. The original form of the name would indeed probably be "de Mier" and over time the "de" would have been dropped.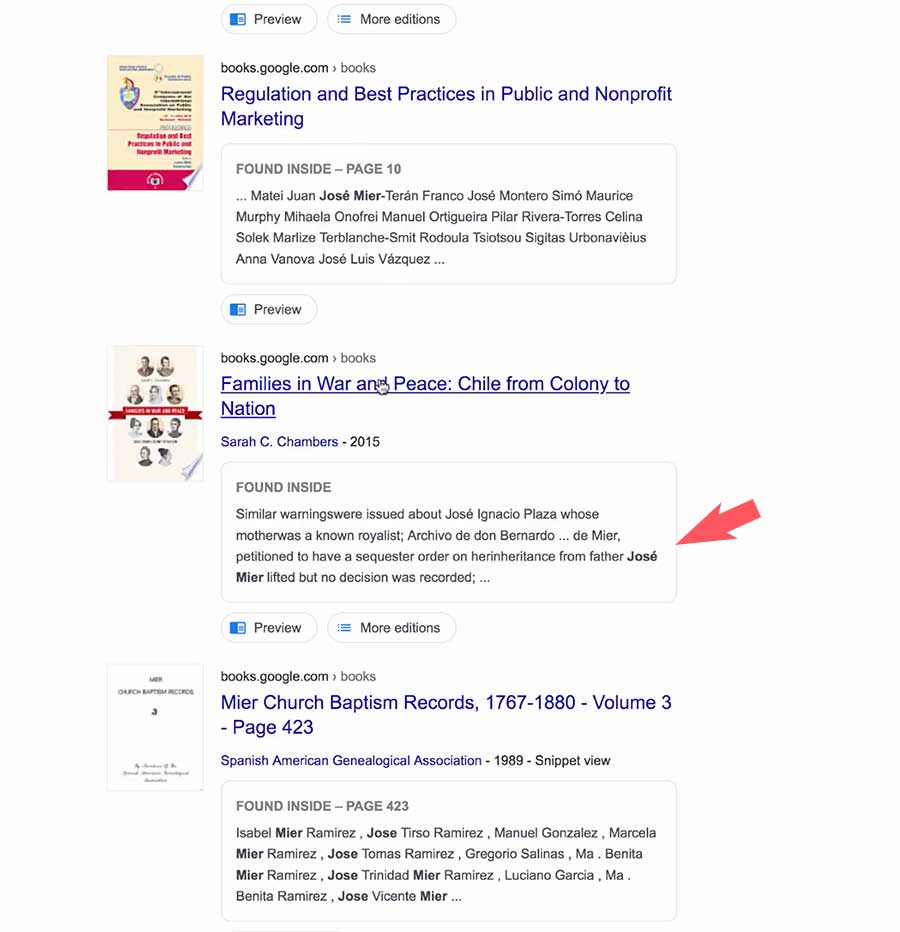 This original paragraph cited in the book is from around 1820 and there may still some Spanish nobility in the area who still retained the "de" in front of the name Mier. The paragraph details Jose Mier's daughter trying to get some legal help regarding her father's estate. Since this was around 1820 that means the father (Jose Mier) would most likely have been born in the 1700s.
As I said, the road to discovery is often a twisted one. This road went from Canada to the Midwest United States and finally to Chile at the far southern end of the world!