Another Jose Mier for you! It's amazing just how much information is available online. On one hand it's scary. On the other, it provides a wealth of content for people like me doing somewhat silly searches like my labor of love in finding Jose Mier around the world. Some of the information is very detailed and I can tell a lot about whichever Jose Mier I spotlight. Other times, there is hardly any information at all—or information that is of almost no use except to eccentric searches like mine. This is one of those cases.
Jose Mier from Perris (not Paris)
My latest famous namesake is a Jose Mier that works in Perris, CA. He is a "recreation leader." The information about his was on a site called Transparent California. Apparently it lists the salaries and benefits of people working in government (or municipal) positions in the state.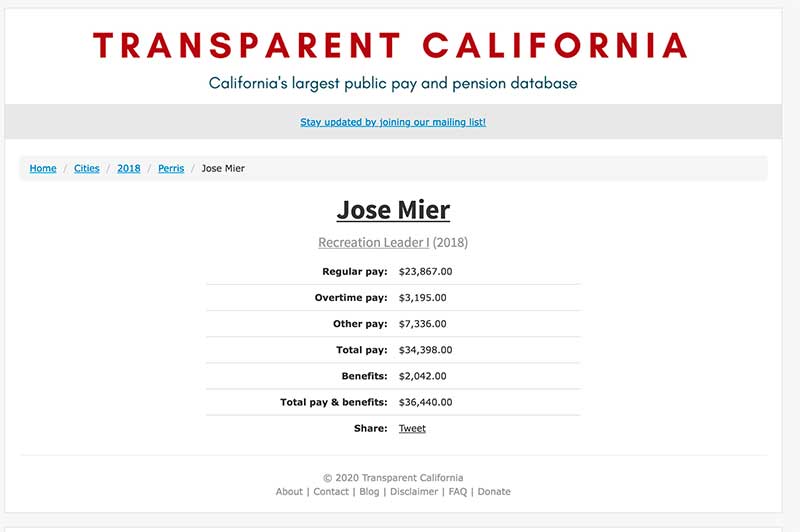 The fact that this Jose's "profile" is one of the ones listed near the top of the search results is due, I suspect to the fact that Transparent California is a rather high authority site. It's got enough authority to make this particular listing one of the more relevant search results. I suspect, though, that almost no one visits the site. In fact I had no idea it existed until now. It's funny what I'm finding as I continue my searches.
The other thing this discovery prompted me to investigate is just what is a recreation leader. I suspected it had something to do with city parks and overseeing recreational activities and I was right. I found the definition on another California city website (Modesto) which defines a recreation leader as someone who plans, organizes and conducts recreation activities for people who sign up for city-sponsored programs.
Another interesting aside was that when I researched this job a little more on Transparent California I saw same recrations leaders were making over $80,000 per year in salary and benefits. Not bad for overseeing recreational activities. Our Jose makes somewhat less. Even so to you, Jose Mier: Recreational Leader, I say welcome to my list!