The Travails of A Jose Mier Search
As you know I carry out my Jose Mier research from my computer in my Sun Valley, California home. Every piece of information I have found comes from the Internet. Some of my research is easier and more fruitful than others. Imagine my delight when I happened upon a book excerpt with not just a cryptic listing, but a whole paragraph —a legal declaration —by one Jose A. Mier during the Mexican War for Independence.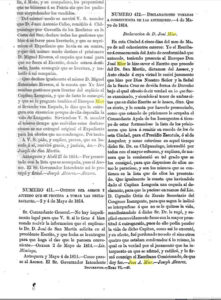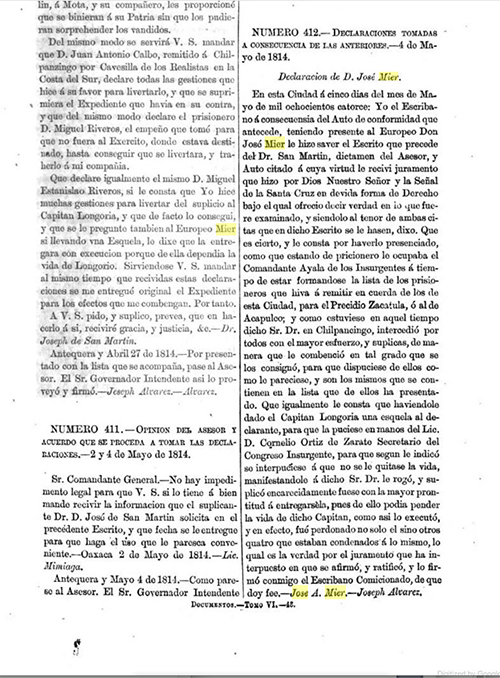 This, I thought was a spectacular find, and that I would be able to take away much more information about this particular Jose than some of my other recent investigations. Clicking the link on Google Books I was taken to an inner page of "Collection of Documents on the History of the War for Mexican Independence 1808 to 1821." The page contained declaration of a Jose A. Meyer, written in 1814. Wow, I thought, I'm going to get a lot of information this time. My excitement was short-lived. While I anticipated some background biographical information on this particular person there was none to be found. What's more, when I, regretting my limited Spanish, tried to use Google Translate to find out a little bit more about this person, I was sorely disappointed. Even I can tell from reading the original Spanish that this document was written in the formal, flowery legalese of the era. When translated, however, the same flowery, formal language turned into an unrecognizable paragraph of gobbledygook. I post both the original Spanish in the comical attempt at translation, if for no other reason then to give you a good laugh.
En esta ciudad a cinco días del mes de Mayo de 1814: Yo el escribano a consecuencia del auto de conformidad que antecede, teniendo presente al Europeo Don Jose Mier le hizo savor el escrito que precede del Dr. San Martin, dictamen dal Asesor, y auto citado a cuya virtud le recivi juramento que hizo por Dios Nuestro Señor y la Senal de la santa cruz en devida forma de derecho bajo el qual ofreció decir verdad en lo que fuere examinado, y siéndolo al tenor de ambas citas que en dicho escrito se le hasen, dijo. Que es cierto, y lo consta por haverlo presenciado, como que estando de pricionero le ocupaba el Comandante Ayala de los Insurgentes a tiempo de estar formandose la lista de los prisioneros que hiva a remitir en cuerda do los d esta ciudad, para el Precidio Zacatula, o al de Acapulco; y como estuviese en aquel tiempo dicho Sr. Dr. en Chilpancigo, intercidio por todos con el mayor esfuerzo y suplicas, de manera que le combencio, para que dispuciese de ellos como le pareciese, y son los mismos que se conntienen en la lista que de ellos ha presentado. Que igualmente le consta que haciéndole dado el Capitan Longoria ene esquela al declarante, para que le puciese en monos del Lic. D. Cornelio Ortiz de Zarate Secretario del Congreso Insurgente, para que según le indico se interpuciese a que no se le quitase la vida, manifestandole a dicho Sr. Dr. le rogó, y suplico encarecidamente fuese co la mayor protitud a entregársela, pues de ello podia pender la vida de dicho Capitán, como así lo ejecuto, y en efecto, fue perdonado no solo el sino ortos cuatro que estaban condenados a low mismo, lo qual es le verdad por el juramento que ha interpuesto en que se afirmo, retifico, y lo firmo comnigo Escribano Comicionado, do que doy fee.
–Jose A. Mier
And here's the "translation:"
in this city on the fifth day of the month of May 1814: I, the notary public, as a result of the aforementioned order of conformity, bearing in mind the European Mr. Jose Mier, made him honor the preceding letter from Dr. San Martin, opinion of the Advisor, and cited order by virtue of which he received an oath that he made by God Our Lord and the Sign of the Holy Cross in the form of a right under which he offered to tell the truth in what was examined, and being it according to the two quotes that in said writing do you, he said. That it is true, and it is confirmed by having witnessed it, as when he was a prisoner, Commander Ayala of the Insurgents occupied him in time to be forming the list of prisoners that he was going to send in a rope from the d this city, for the Precidio Zacatula , or to Acapulco; And as Mr. Dr. in Chilpancigo was said at that time, he interceded for all with the greatest effort and pleaded, in a way that I oppose him, to dispute them as he saw fit, and they are the same ones that are contained in the list that of them has submitted. That he is also aware that by giving Captain Longoria an obituary notice to the declarant, so that he could be punctured in overalls by Lic. D. Cornelio Ortiz de Zarate Secretary of the Insurgent Congress, so that, as indicated to him, he interposed so that his life could not be taken , declaring to said Mr. Dr. he begged him, and I earnestly beg that he be with the greatest promptitude to deliver it, since the life of said Captain could depend on it, as he executed it, and in fact, not only the other four were forgiven that they were condemned to the same low, which is true by the oath that he has interposed in which he affirmed, retified, and signed it with a Notary Public Notary, that I give fee.
–Jose A. Mier
Can you make heads or tails of this? I certainly can't. Regardless, I do know that this man was involved in some way with the struggle for Mexican independence from Spain and that he penned this document in May 1814 and had it notarized. As such, he's entitled to membership in my growing list of Jose Miers around the world. And speaking of notaries and legal documents I would be careful of using Google translate for any international legal documents you need to send. The recipients may just have a good laugh to your expense!
<iframe width="560″ height="315″ src="https://www.youtube.com/embed/vYTE5REZjhg" frameborder="0″ allow="accelerometer; autoplay; clipboard-write; encrypted-media; gyroscope; picture-in-picture" allowfullscreen></iframe>
Summary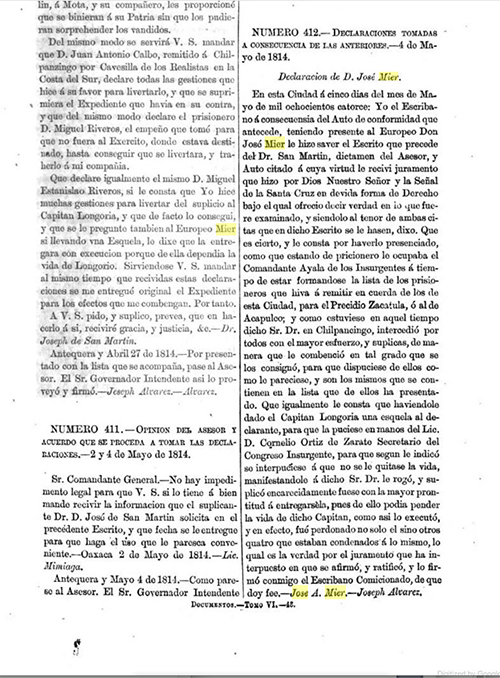 Article Name
Google Translate to the Rescue (Not)
Description
Jose Mier's latest search reveals information on a man with the same name in Mexico in 1814. The Google translation, however, was unreadable.
Author
Publisher Name
Publisher Logo