"Jose Mier" research led me to the province of Santander in Spain (although since 1983 this has been the region of Cantabria). The City of Santander is the capital of this region.
As I mentioned elsewhere on this website, my theory is that the spread of the Roman Empire in the early centuries may be the reason for the derivation of my surname. The Roman Empire expanded to include much of Europe reaching all the way to the British Isles. What later became Spain was also part of the reach of the Empire. The Latin influence may be why the name Mier appeared, deriving from the term for ripe wheat.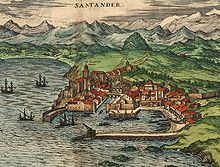 In any case, the city of Mier is a separate entity from the city of Santander which lent its name to the province. The history of the region is murky, though and I haven't been able to find much in the way of Roman Empire influence or records but I still think it's a safe bet that they (the Romans) were pretty much everywhere in the region. Small villages wouldn't get a lot of attention but they were where people lived and went about their lives in anonymity.
Santander, however, does start to appear "on the map" in the Middle Ages. According to Wikipedia, the town is referenced by King Sancho II in 1068. With the spread of Christianity in the region over the centuries, more and more mention is made of this town and it is famous for many of the religious buildings like cathedrals and abbeys that were constructed there.
Santander is a port city so trade would have been a prime element of the economy from ancient times as would fishing. This location on the sea is probably the reason Spanish immgrants to Mexico used the name for their own Nuevo Santander province since it too is located near the sea.
I always wondered about the name Santander, especially when I've visited Mexico and passed by innumverable Bank of Santander locations. Now I understand. The bank has its origins in the city of Santander.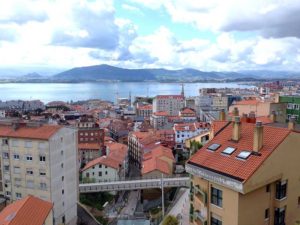 I thought I might get luck and find another "famous" Jose Mier (or at least the Mier name) in a list of Santander notables, but I didn't. The earliest Jose is Jose de Madrazo y Agudo who was a painter. He died in 1859. I've seen some Calderons, Penas and Guillons listed, but alas, no Miers. It would seem like the Mier name stayed put in its own little enclave in Santander Province.
One notable name I did recognize was Steve Ballesteros, the professional golfer. It's interesting, but not really helpful in locating other Jose Miers in that area.