A Comprehensive Resource for Genealogists and Family Historians
I, Jose Mier, in my Sun Valley, CA workshop often look for additional family history resources. Once more I found Mexican genealogy information, this time on the website Cyndi's List.
Cyndi's List is a remarkable website that has been a cornerstone resource for genealogists and family historians since its inception in 1996. Founded by Cyndi Ingle, the website serves as a comprehensive directory of genealogical and historical resources available online, covering a wide range of topics and regions. With thousands of categorized links and a commitment to providing valuable information to researchers worldwide, Cyndi's List has earned its reputation as an indispensable tool for anyone interested in delving into their family history.
In this comprehensive exploration of Cyndi's List, we will delve into the history and development of the website, its structure and organization, the extensive range of resources it offers, and its significance in the world of genealogy and family history research.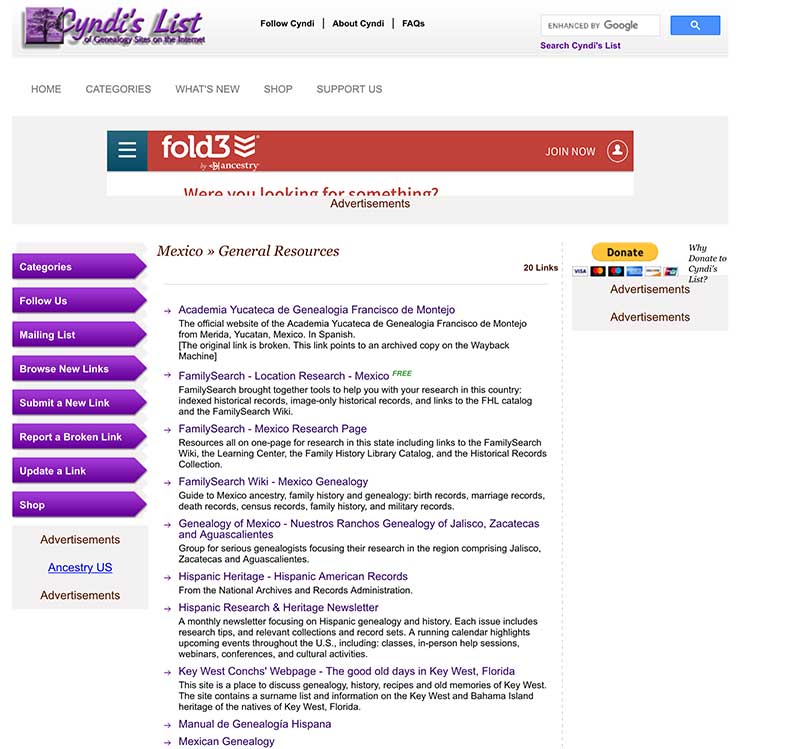 The History and Development of Cyndi's List
Cyndi's List is the brainchild of Cyndi Ingle, a dedicated genealogist with a passion for helping others navigate the vast landscape of online genealogical resources. Ingle began her genealogical journey in the 1980s, and her interest soon evolved into a commitment to sharing her findings and helping fellow researchers. Her vision for a comprehensive and well-organized directory of genealogical websites led to the creation of Cyndi's List, which officially launched in 1996.
The website's early days were marked by Cyndi's personal dedication, as she single-handedly curated the links and resources. With time, the site grew, and so did its community of users and contributors. Volunteers from the genealogical community began submitting their own discoveries and recommendations, expanding the directory's scope and ensuring it stayed up-to-date.
Cyndi's List has not only survived but thrived over the years, adapting to changes in technology and the evolution of the internet. The website has seen several redesigns and updates, always aimed at improving user experience and keeping up with the latest developments in genealogical research. Throughout its history, Cyndi's List has maintained its commitment to providing free, easily accessible genealogical resources to researchers worldwide.
The Structure and Organization of Cyndi's List
One of the defining features of Cyndi's List is its meticulous organization. The website is structured to cater to the diverse needs of genealogists and family historians. This well-thought-out structure makes it easy for users to find resources relevant to their research. Here's how Cyndi's List is organized:
2.1. Categories and Subcategories
Cyndi's List is divided into a wide range of categories, each focusing on a particular aspect of genealogical research. Categories encompass various topics, from general genealogy and specific countries or regions to more specialized areas like DNA testing, military records, and even tombstone transcriptions. Each category is further broken down into subcategories, providing users with increasingly specific options to explore.
2.2. Search Functionality
The website includes a powerful search feature that allows users to enter keywords to find resources related to their research interests. The search function combs through the extensive database of links and provides relevant results, helping researchers pinpoint valuable resources quickly.
2.3. New and Updated Links
Cyndi's List also features a section that highlights new and updated links. This section allows users to stay current with the latest additions to the website, ensuring that they don't miss out on valuable resources that could aid their research.
2.4. Contributor Index
The website recognizes the contributions of volunteers and genealogy enthusiasts who have submitted links and resources. Cyndi's List maintains an index of contributors, giving credit to those who have helped expand and enrich the website's content.
2.5. What's New
Cyndi's List provides a "What's New" section, offering information about recent changes to the website, news in the genealogy community, and updates to its policies and guidelines. This keeps users informed and engaged with the evolving nature of the site.
The Extensive Range of Resources on Cyndi's List
The heart of Cyndi's List is its vast collection of genealogical resources. These resources cover a wide spectrum of topics and regions, making the website an indispensable tool for genealogists and family historians. Let's explore the diverse array of resources available on the website:
3.1. Geographic Resources
One of Cyndi's List's strengths is its extensive coverage of geographic resources. Researchers can access links to genealogical records, repositories, and online databases specific to various countries and regions around the world. Whether you're interested in tracing your ancestry in Ireland, Germany, Australia, or any other location, Cyndi's List likely has a category or subcategory dedicated to it.
3.2. Ethnic and Cultural Resources
The website goes beyond geography to address the cultural and ethnic aspects of genealogy. Researchers interested in specific ethnic groups or cultural backgrounds can explore resources related to African American, Jewish, Native American, Hispanic, and many other cultural heritages.
3.3. Research Methods and Tools
Cyndi's List provides a wealth of information on research methods and tools. This includes guidance on how to start your genealogical journey, as well as tips on organizing your research, utilizing DNA testing for genealogy, and making the most of genealogical software and tools.
3.4. Military and Historical Records
For those with ancestors who served in the military or those interested in historical records, Cyndi's List offers numerous categories and links related to military service, including records from various wars and conflicts. You can also find resources related to historical newspapers, archives, and more.
3.5. Vital Records
Vital records are a cornerstone of genealogical research, and Cyndi's List covers this area extensively. Whether you're looking for birth, marriage, or death records, the website provides links to vital record repositories and databases worldwide.
3.6. Immigration and Emigration
Many genealogists are interested in the journeys their ancestors made from one country to another. Cyndi's List offers resources on immigration and emigration, including passenger lists, immigration records, and tips for researching your immigrant ancestors.
3.7. Cemetery and Tombstone Transcriptions
Cemetery and tombstone transcriptions are valuable resources for genealogists. Cyndi's List includes links to various websites and projects focused on documenting tombstone inscriptions, making it easier for researchers to locate information on their ancestors' final resting places.
3.8. DNA Testing and Genetic Genealogy
With the growing popularity of DNA testing for genealogy, Cyndi's List keeps users up-to-date on this topic. The website provides links to DNA testing companies, educational resources, and tools for analyzing DNA results.
3.9. Genealogical Societies and Organizations
Genealogical societies and organizations play a vital role in the genealogy community. Cyndi's List features an extensive list of such organizations, helping researchers connect with like-minded individuals and access valuable resources and support.
3.10. Online Forums and Communities
Online genealogy forums and communities are great places to seek advice, share research findings, and connect with others who share your interests. Cyndi's List includes links to numerous forums and online communities where researchers can engage with fellow genealogists.
3.11. Libraries and Archives
Accessing physical records can be a critical part of genealogical research. The website provides links to libraries and archives around the world, making it easier for researchers to plan their visits and access valuable resources.
3.12. Blogs and Newsletters
Cyndi's List recognizes the importance of staying informed about the latest developments in the genealogy field. The website includes links to genealogy blogs, newsletters, and news sources, ensuring that users are up-to-date with the latest trends and discoveries.
3.13. Historical Maps and Gazetteers
Historical maps and gazetteers can provide valuable insights into the places where your ancestors lived. The website offers links to resources for historical maps and gazetteers, helping researchers better understand the geographical context of their ancestors' lives.
3.14. Software and Tools
Cyndi's List provides information on genealogy software, apps, and online tools that can streamline research and organization tasks. This section includes recommendations and reviews of various genealogy-related software and tools.
3.15. Educational Resources
Learning is an essential part of genealogy, and the website offers links to educational resources, including tutorials, webinars, and online courses, which can help researchers hone their skills and knowledge.
Significance of Cyndi's List in the World of Genealogy
Cyndi's List has earned a central place in the world of genealogy and family history research due to several key factors:
4.1. Accessibility
Cyndi's List is a free resource, which is a significant advantage for genealogists, especially those who are just beginning their research. The website's accessibility ensures that anyone with an internet connection can explore a wealth of information without cost, making it an excellent starting point for beginners.
4.2. Comprehensive Coverage
The website's extensive coverage of genealogical topics, regions, and resources is unparalleled. Researchers can find resources on virtually any aspect of genealogy, from beginner-level guides to highly specialized research topics. Whether you're interested in traditional paper-based research or cutting-edge genetic genealogy, Cyndi's List has you covered.
4.3. Ongoing Updates
Cyndi's List's commitment to ongoing updates and user contributions keeps the website relevant and up-to-date. The dynamic nature of genealogical research, with new records and resources continually becoming available, makes the website's dedication to staying current all the more critical.
4.4. Community and Collaboration
The website encourages collaboration and community engagement. Contributors from around the world share their findings and recommendations, making the website a collective effort that benefits everyone in the genealogy community. It's a place where experienced researchers can help newcomers, and newcomers can contribute to the collective knowledge.
4.5. Guiding and Supporting Researchers
Cyndi's List not only provides links to resources but also offers guidance to researchers. The website's structure and organization help users navigate the complex world of genealogical research, making it easier to find relevant information and resources.
4.6. Inspiring Genealogists
Cyndi Ingle's personal journey and dedication to the field of genealogy have inspired countless genealogists and family historians to embark on their own research. Her story serves as a testament to the transformative power of genealogical research and the difference it can make in people's lives.
Conclusion
Cyndi's List stands as a testament to the power of community, dedication, and passion in the field of genealogy. From its humble beginnings in 1996, the website has grown into an invaluable resource for genealogists and family historians around the world. Its comprehensive coverage, meticulous organization, and ongoing commitment to updates make it an essential tool for both beginners and experienced researchers.
Whether you're looking to explore your family's history, understand your cultural heritage, or uncover the stories of your ancestors, Cyndi's List offers a wealth of resources and a welcoming community of like-minded individuals. In the ever-evolving landscape of genealogy, Cyndi's List remains a steadfast and reliable guide, helping researchers navigate the journey to uncover their family history.
In a world where technology and the internet have transformed genealogy research, Cyndi's List continues to play a crucial role in connecting people with their roots, preserving their family stories, and strengthening the bonds that tie generations together. It is a testament to the idea that one person's passion and dedication can create a lasting legacy for the entire genealogical community.