From Colorado, Not Sun Valley
Jose Mier is the name of the latest namesake I'm adding to my list. In thisn Case Jose R. Mier Ortiz. As with 90% of the searches I do this was another Google search simply for my name. I do the same search over and over from time to time simply to see what results I get. This time I was not disappointed.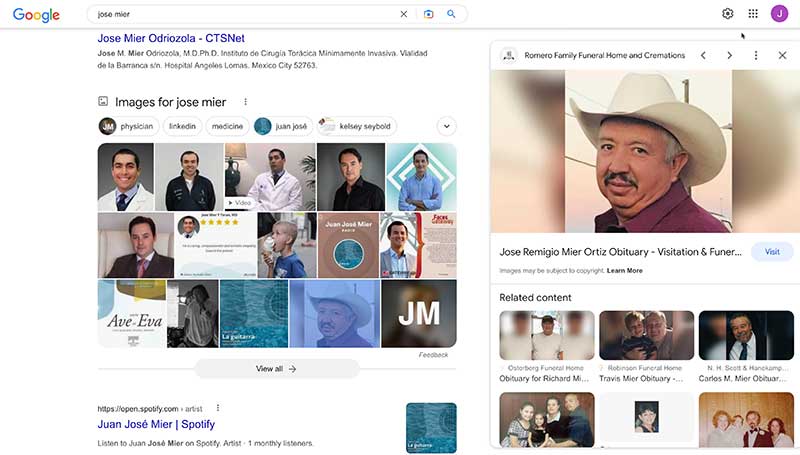 Of course it's a little sad when the results I guess actually an obituary, but because I'm before any Version of my name, past, present, living or deceased the search met criteria. I will say that this wasn't a text listing but rather one of the photos that appears first page of Google search results, usually the bottom of page. Of course since I started doing things Jose Mier searches I often find the pictures I post on my website and up being in this section.
This time I spotted a new photo and Clicked on it. Photo photo actually took me to The Romero funeral home website where there was any memorial for Jose Remigio Mier Ortiz. Perhaps the saddest part hope this fine was that this particular Jose was born in 1967. He passed away in 2020 so he was relatively young — only 52 years old. The website did not give any details as to the cause of death so I am left to speculate. The only other information aside from the dates of his birth and death what is the location: Aurora, Colorado.
I've been doing searches for about two years now and I would've thought that I have found most of the listings for people named Jose Mier but this is the first time I've seen this particular person. Course I may have run across is listing on a site like PeopleFinder.com but those listings are very general and don't go into a lot of detail. If it was one of the Joses I found a site like this it would have merely said Colorado and not given much more information. With this obituary and memorial, however, I'm able to add a specific, discrete, Jose to my growing list.
As an aside I'll say that I have found a growing number of Latino surnames States other than the south, West or a state like Florida. Whether this is evidence Latino migration into more areas or not I'll leave you to decide. However, Colorado is kind of a Western State and the name comes from the appellation given to this area by Spanish explorers the 16th-century. So when away finding this Jose Mier kind of brings things full circle.
And even though this is not exactly a joyous search result, it Is another distinct person that I can add to my list so I welcome this Jose as another member of exclusive group.
Summary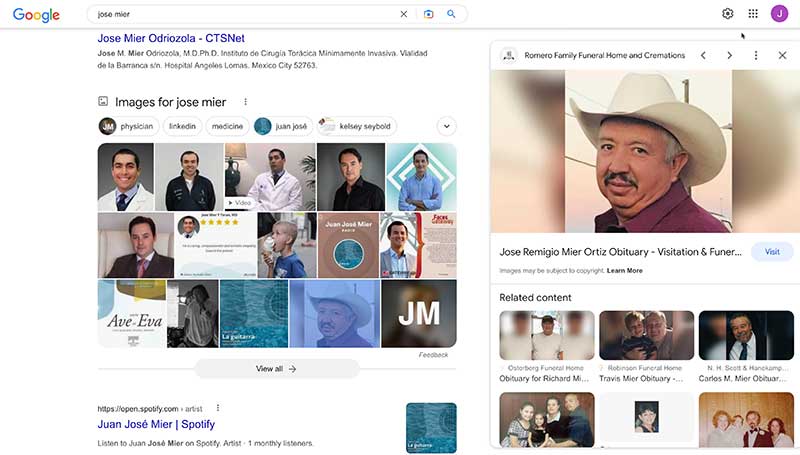 Article Name
Jose Remigio Mier Obitiuary
Description
Jose Remigio Mier Obitiuary is what I found during my latest search from Sun Valley CA for my namsakes around the world.
Author
Publisher Name
Publisher Logo