Jose Mier Explores LinkedIn's Buffet of Results
As you know I try to find as many instances of my name, Jose Mier as I can. It's really just a labor of love for me and there's no earth-shattering purpose to it all, but it makes me feel good. I once had someone contact me because they knew my name on LinkedIn. They had found a wallet on the beach in Mexico and contacted me to see if it were mine. It wasn't, but the story just goes to show that there are a lot of us with the same name running around this planet.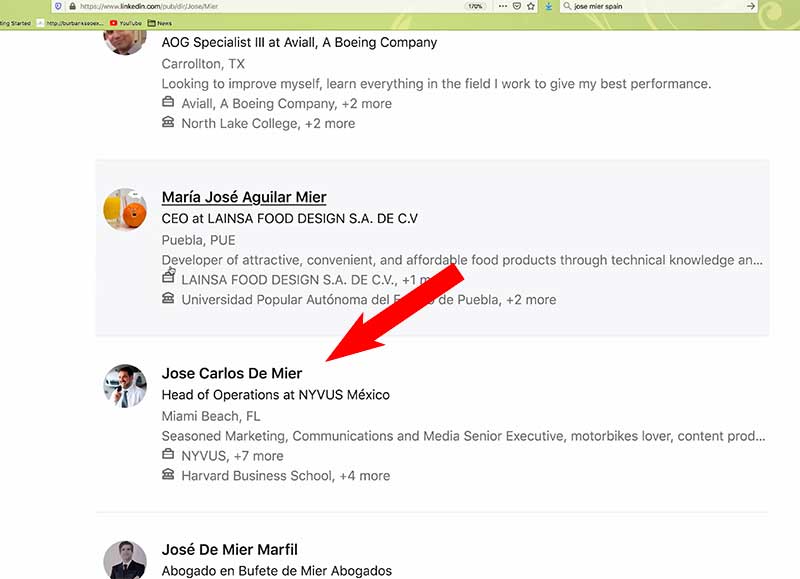 Speaking of LinkedIn, that's the latest tool I used in my search. While I have not even come close to exhausting my straight-up Google searches, I thought I'd look into LinkedIn to see what I could find. Actually this search did start on Google but one of the results was "200+ Jose Mier Profiles on LinkedIn." My search term was "Jose Mier Spain" and I wanted to see how many more Jose I could find that were actually from Spain but I was led to LinkedIn.
More Jose de Miers
The result did in fact serve up more than 200 Jose Miers but the vast majority were not from Spain (mostly United States and Mexico). I was really hoping to find more Miers from the Mier region (town, actually) in the Santander Province. Instead I found more from regions closer to me. I also noted a few more with the old spelling of the name "de Mier." Regardless of whether they were from Spain or not, this is the old nobleman's wersion of the name. There are also some other Jose Miers I want to add to my list, like this one on LinkedIn as well as this one.
As I go over all these listings and collect data for myself I do see a bit of a pattern emerging. A lot of these listings are in heavily Latino areas of the U.S. like Miami or Texas. Of course I am not surprised that there are so many in Mexico, but I've found a couple de Miers in Miami which makes me wonder if they are refugees from Cuba and are/were there many original de Miers in Cuba. Again, because we're closed off from that country and limited in the amount of information we can gather it remains another theory.
In any case, you can view the results of my search in the video on this page. The search did provide me with additional names I can and will research and add to my list. My latest de Mier find is also a physician who lives in Miami. I find it interesting the number of doctors I turn up with the name Jose Mier. In any case, stay tuned for yet another profile!