Jose Mier Researches More of His Namesake City
Searching for Jose Mier often leads me to articles on that city in northern Mexico that bears my surname. Or perhaps I bear the same of that city. In any case, searching for Mier inevitably brings up something related to that city. You can read some of what I've found in my recent Jose Mier World blog post.
Recently I happened on a website also dedicated to genealogy, and while not dedicated specifically to the Mier surname, its focus is on the ancestors and descendants of the people to lived in Mier, Mexico.
Its location, close to southern Texas means that there was probably a lot of migration from Ciudad Mier to Texas, especially prior to Texas declaring its independence from Mexico. That means there are a good number of Latino families now living in Texas whose ancestors originally were from Mier.
No Jose Mier in This 1827 Document
One such descendant is Moises Garza, whose great grandparents lived in Mier. Indeed, he has researched the history of his own family and unearthed a document which is the marriage record of his great grandparents who were married in Mier in 1827. Garza, like me, is interested in genealogy—although his search is more serious than mine. Still, I love to see how others approach their own searches, their processes and tools they use.
Garza's site is WeAreCousins.info and his specific page detailing the marriage of Jose Manuel Lopez and Cecilia de la Garza is here.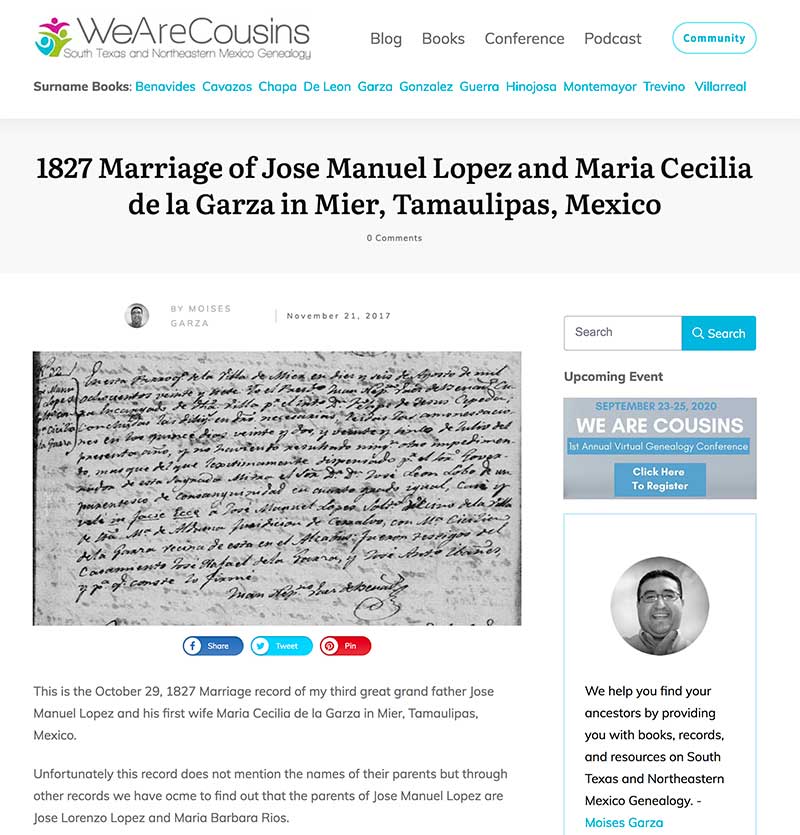 For those doing research into Mexican family history the site provides a wealth of information and resources including several books which record the names of families in different areas and locales in Mexico including "The Last Names of Nuevo Leon." Like the area where Mier is located, the Spanish gave new place names in Mexico names taken from areas in Spain. Modern-day Tamaulipas was Nuevo Santander.
If your family was located in Nuevo Leon, the Last Names website is also a great source of information for you if you are doing family history research.
For me, I continue to search for Jose Mier regardless of where he is or was located, but in the course of my searching I've happened upon serious genealogical research tools those of you with less facetious goals can take advantage of.
Summary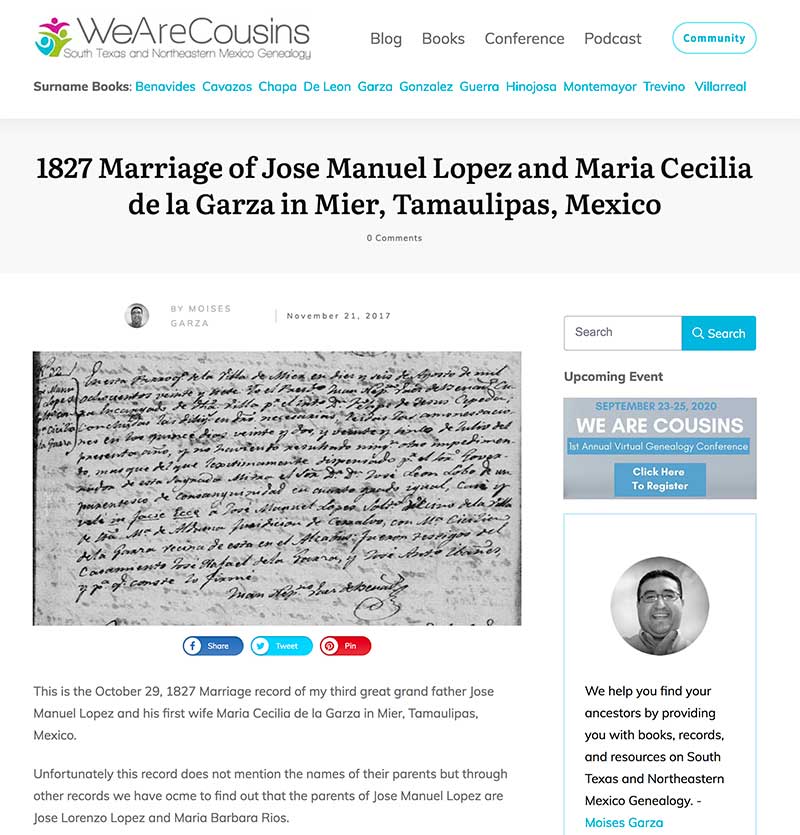 Article Name
Ciudad Mier and Genealogy
Description
Jose Mier lands on some fruitful genealogy tools for those doing family history research about northern Mexico and southern Texas.
Author
Publisher Name
Publisher Logo