Today marks the anniversary of the Allied invasion of Normandy. In honor of D-Day, we're highlighting the Easy Company – Band of Brothers, a collaborative project dedicated to the Easy Company, 2nd Battalion of the 506th Parachute Infantry Regiment of the 101st Airborne Division in the United States Army. Created in 1942, the 506th Parachute Infantry Regiment was an experimental airborne regiment created to jump from C-47 transport planes into hostile territory.
Operation Overlord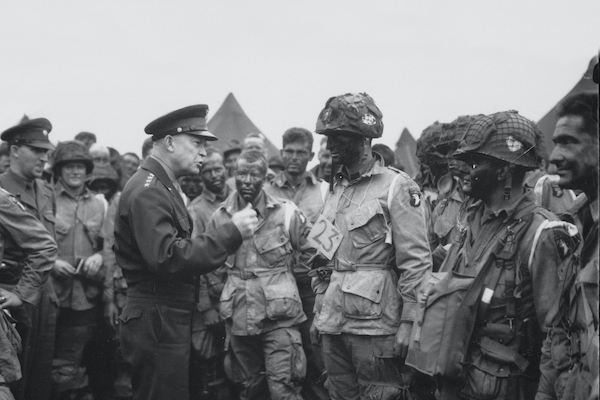 Image: U.S. National Archives and Records Administration
In the early morning hours of June 6, 1944, the E company took their first combat jump onto Utah Beach. Their mission was to capture the entrances to and clear any obstacles around Causeway 2, a pre-selected route off Utah Beach for the landing of Allied forces from sea a few hours later.
After landing on the ground, command of E company fell to 1st. Lt. Richard Winters. Winters would lead a group of 12 men to destroy four German heavy guns aimed along Causeway 2. The position was defended by about 50 German troops firing onto the causeway, disrupting the landing of the U.S. 4th Infantry Division. Although outnumbered, Winters and his men successfully attacked and gained control of the crucial strategic point.
The Easy Company would go on to fight in several more engagements during World War II, including Operation Market Garden and the Battle of the Bulge.
Easy Company – a Band of Brothers
The goal of the Easy Company – a Band of Brothers project is to build the family tree for each member who served with the Easy Company during World War II and eventually connect them to Geni's World Family Tree, "thereby connecting each 'Brother' as a member of an extended family of cousins."
Out of a list of 377 E Company paratroopers, 281 trees have already been built or expanded on Geni. But there's still more work to be done to build and connect the family trees of the remaining soldiers! You can help honor the memory of the Easy company paratroopers by joining the project as a collaborator and do your part to connect these soldiers to the World Family Tree.
If you don't know where to start, check out the project's discussions to see what areas are in need of assistance.
Did your relative serve with the Easy Company? Or are you up for a new genealogy challenge?