"Jose Mier California" Leads to LinkedIn
The name Jose Mier is a fairly popular one and it has led me over the last couple years do various countries and locations we're there are other people with my same name. If You've read any of these blog posts you know that I found people all over the world of research the name origins of my surname– Tracing it back to a town in northern Spain.
One thing I haven't yet done his search for myself in my own state. As you may or may not know I live in Sun Valley California which is a suburb of Los Angeles. I thought I'd done as many local searches as possible and head racked my brain try to include all locations closest to me in addition to international searches. However, when I thought about it I realized that I never specifically searched within the state of California, so that's what I did.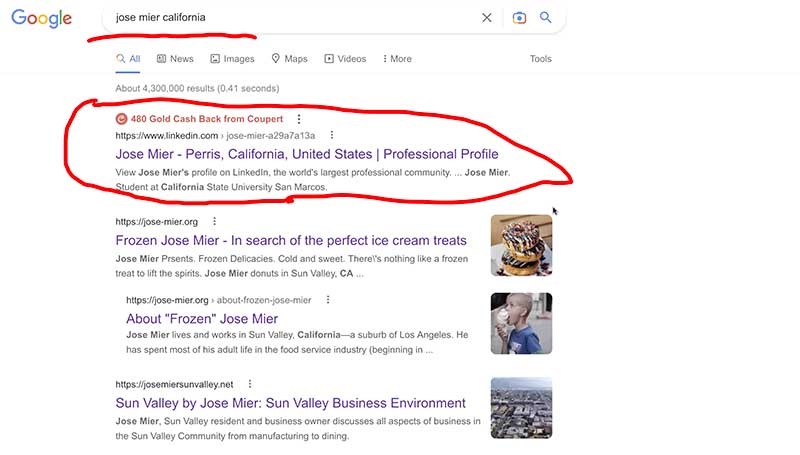 I simply performed another Google search with the term "Jose Mier California" just see what I would find. Alongside other listings that I've seen before the one at the very top of my Google search results page was a LinkedIn profile listing. This is for a gentleman named Jose Mier who lives that works in Perris, California. For those who don't know Perris is not too far from my home in Sun Valley. It's another southern California city and so that immediately interested me.
Clicking on the link Took me to the LinkedIn profile which didn't have a lot of information, however, on the side of this profile link doesn't listed a number of others the same name: Jose Mier. So first first I thought there were six or seven other profiles that I can investigate, and some that I probably already had. What I found in what was most intriguing and exciting was that LinkedIn List every single person with that name. All I have to do was click on the link in the 200+ names (all Jose Mier, of course) were there in front of me.
This is an eye-opener not just for me but for anybody else's doing genealogical research. For me I can go through the list at these different people to my list of others with the same name. However, if you are seriously into family history and genealogical research this may be a valuable tool. If you are researching specific name or surname you can enter it into LinkedIn search function and see the results. From there you can weed out any outliers or names of people in countries you're not interested in. for me, I will take anyone from any country but for you and Maybe different. Say you're your family in Poland. Interest are name and see the results. From there you may be able to contact these people and see if they are indeed related to you and You can then add that information your family history profile.
This was the most fascinating search I've done a long time and I was very happy with results. I wanted to share it with other readers of this blog especially because it may help them in construction of their family tree.
Summary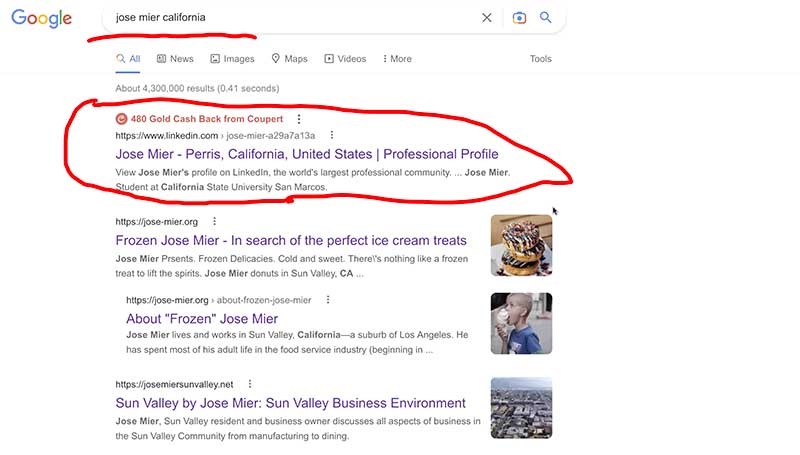 Article Name
Description
Searching for Myself in California led me to a Jose Mier profile on LinkedIn. This in turn led me to more than 200 others with the same name.
Author
Publisher Name
Publisher Logo