Jose Mier here with yet another Jose Mier! This one is a researcher who is associated with the Unversity of A Coruña in (where else?) A Coruña, Spain.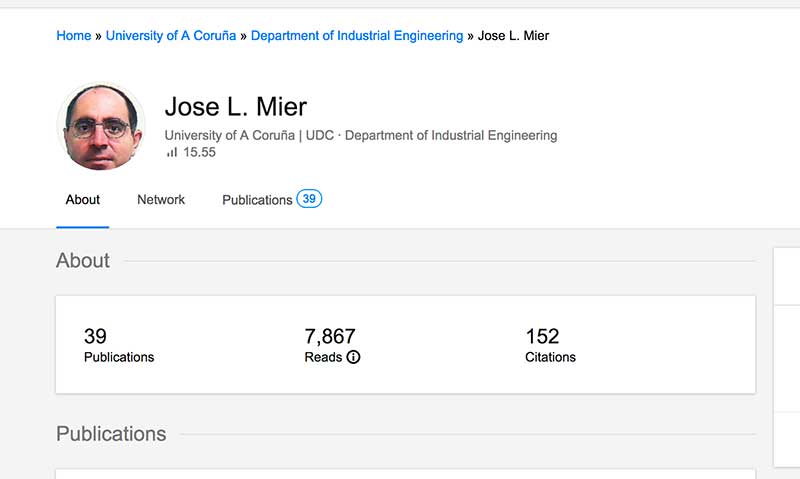 I'll get to the university in a moment, but first some details about this latest addition to the Jose Mier rolls. This particular Jose is part of the University's department of industrial engineering and has published 39 papers according to the listing on Researchgate. It is the Researchgate listing that shows up in my search for Jose Miers around the world. Our specific Jose is Jose L. Mier.
There is no biographical data on the site, but there is a photo and it looks like this guy is in his mid to late 30s or early 40s. Obviously, he's very intelligent. His articles have been cited by others 152 times. My little experiment in trying to find all the namesakes I can has returned some interesting and varied results from guitarists to football players to this industrial engineer. This labor of love of mine keeps me interested to see who an what I will find next.
Near Jose Mier Origin in Santander?
Of course, any time I find a "famous" Jose from anywhere in Spain, I look to see where he is in proximity to Santander. By coincidence (or not) the University of A Coruna is located on the northwest tip of Spain, not too far from Santander. At least both are in the same area of Spain (the northern coast). Santander to A Coruña is about 456 kilometers or about 283 miles. Getting from one area to the other would take about four and a half hours, similar to a trip from Los Angeles to Las Vegas.

It's not outside the realm of possibility that this Mier comes from the Santander region and ended up at a University not too far from his hometown. I can only wonder, but when I see these listings I tend to make up information to fill in the gaps.
The University itself was founded in July of 1989 however it was previously part of the University of Santiago de Compostela. Now, as it's own fully accredited school the Universidade da Coruña has attracted many learned types like our latest Jose Mier. To you, sir, I say welcome to the list!