Jose Mier coming at you once more with yet another namesake (if that's the correct term). It's interesting what I find when I search for Jose Mier since every one of the people I find is unique. I have found doctors and salespeople—even musicians. But it's also where I find them that's so interesting.
My genealogy searches have taken me to various genealogy sites around the web. My medical results have brought me to doctor profiles, individual practice websites or hospital websites and the musician I've found was on Spotify.
Jose Mier #8, however, is found on a website called Hudl. At first I did not know what Hudl was but after seeing the listing of this Jose Mier suited up in a football jersey and his vital stats listed below his picture, it dawned on me that this is a sports site. It's not just football, either. As their home page states,
"More than 160,000 teams—including the best in the world—use Hudl to elevate their performance with video and analytics."
I guess Huddles are not just for football.
In any case, our latest Jose Mier is 5'7" tall and weighs 180 pounds. Looks like he's a member of a high school football team, although there is nothing on the page except his photo to lead me to this conclusion. Impressively, though, he can bench press 245 pounds and squat 345.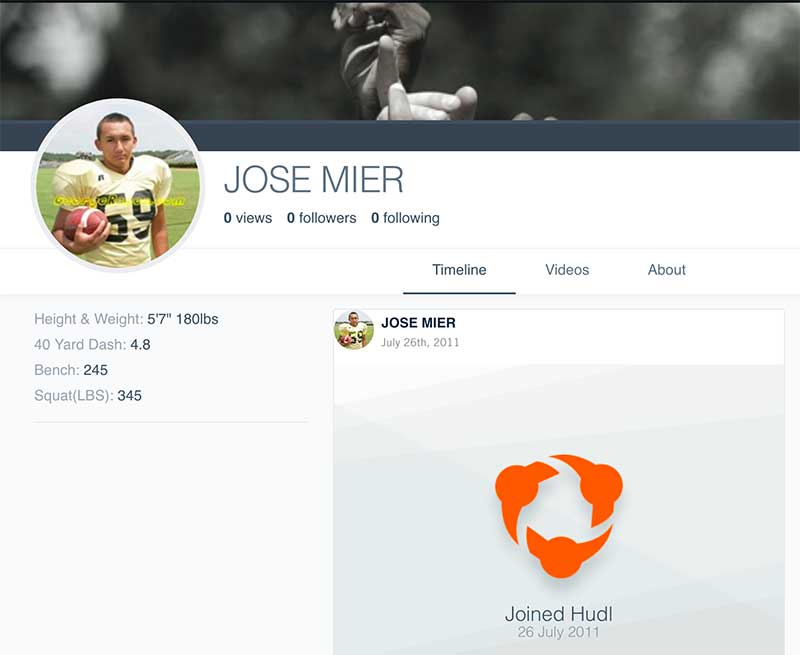 This Jose gets special marks for his athleticism and I can safely say that of all the Jose Miers around the world I've documented so far, he is the strongest. So, to you, Jose Mier #8 (who's also #59!) welcome!