Priest and Prisoner
My latest Jose Mier is one found through (if not on) Google Books, but it was because of an obscure listing on GB that I was able to find more information on this man. To me this is the most interesting find yet and because I was able to find an excerpt from a book about him written in 1932 I (and you) have a glimpse into his life. That's something I can't say for most of my other Jose Mier names.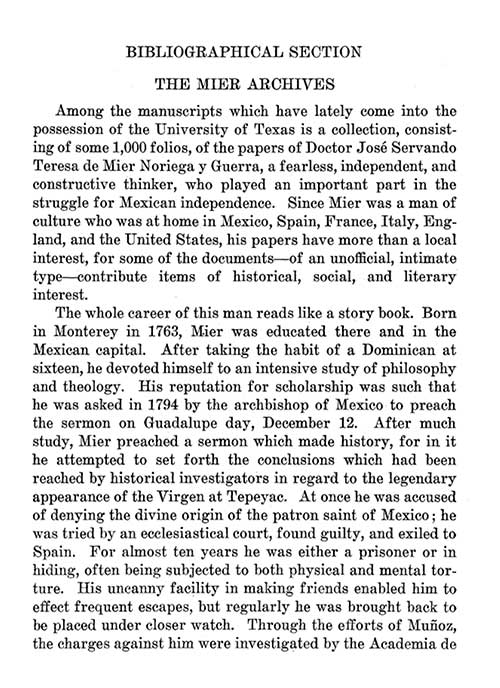 I'll let the excerpt speak for itself since it does more justice to this priest and theologian than I could. This quote describes a little of who Jose Servando Theresa de Mier Noriega y Guerra was:
The whole career of this man reads like a story book. Born in Monterey in 1763, Mier was educated there and in the Mexican capital. After taking the habit of a Dominican at sixteen, he devoted himself to an intensive study of philosophy and theology. His reputation for scholarship was such that he was asked in 1794 by the archbishop of Mexico to preach the sermon on Guadalupe day, December 12. After much study, Mier preached a sermon which made history, for in it he attempted to set forth the conclusions which had been reached by historical investigators in regard to the legendary appearance of the Virgen at Tepeyac. At once he was accused of denying the divine origin of the patron saint of Mexico; he was tried by an ecclesiastical court, found guilty, and exiled to Spain. For almost ten years he was either a prisoner or in hiding, often being subjected to both physical and mental torture. His uncanny facility in making friends enabled him to effect frequent escapes, but regularly he was brought back to be placed under closer watch.
So, Father Jose Mier, you're famous Jose Mier number 23!
Summary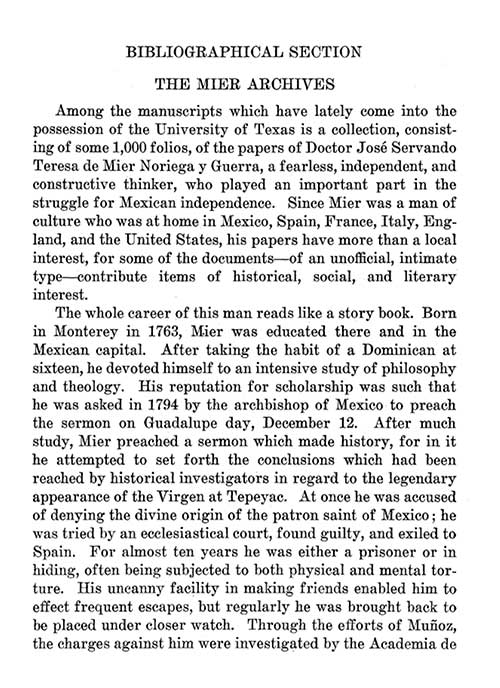 Article Name
Jose Mier Noriega Y Guerra: My 23rd Jose
Description
Jose Mier unearths an obscure book about Father Jose Servando Theresa de Mier Noriega y Guerra a controversial priest from 1820s Mexico.
Author
Publisher Name
Publisher Logo